I have had a very interesting month so far.
I've had lots of stuff going on.
First off, I did finish my yellow Arkansas Crossroads blocks for the
Rainbow Scrap Challenge 2017
. I love making these blocks. They are easy to make, and I love finding the scraps to put them together.
Then, I decided I needed to have an iphone/ipad mini stand. So, I looked online at all the tutorials out there. I didn't want mine to be exactly like these tutorials. I just wanted to have an idea of what worked. I made up my own pattern. I wanted something that could be made quickly and with strips of fabric. This is what I came up with.
I made the big grey one first. This was my first prototype. It worked okay. I found that the ledge to hold the iPad wasn't long enough. The iPad would slip sometimes. This one was made with scraps of twill fabric so I didn't use any interfacing. Because this one is so large I used some left over batting scraps to stuff it, as well as crushed walnut shells.
The second one I made was the little orange one. I used quilting cotton on this one, without interfacing. I made the ledge longer. This was better. I filled it only with crushed walnut shells. This was also better. But, it needed interfacing as the crushed walnut shells discolored the fabric and it was also too small for my iPhone SE, which is the same size as an iPhone 5s. It would slide to the side all the time.
So, finally I got it right. The middle one is made of quilting cotton that has been backed with a light interfacing. It has the longer ledge. It is filled with only crushed walnut shells which gives it nice weight to hold a phone or iPad mini. It can hold my husbands Samsung s7 phone well without worrying it will fall over.
After trying all these out, I realized that the larger size would be perfect for a standard iPad, as long as it was filled completely with crushed walnut shells, or some weighted pellets. It needs the longer ledge to work properly. But other than that its good.
Then, I was a lucky winner in a challenge by Lorna of
Sew Fresh Quilts
to make quilts for Canada's big bee. I made
this quilt
to donate to the Ronald MacDonald House. She sent me this wonderful charm pack by Robert Kaufman. I haven't made anything with it yet, but I will. It's beautiful fabric. Thanks so much Lorna!!!
Laurel Canyon by Studio RK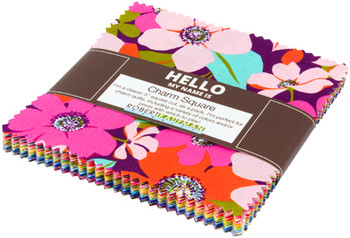 Then, I went on vacation with my husband to Cuba for a week. We had a wonderful vacation. I love going to Cuba. The people there are so friendly, and the beaches are amazing. I brought some hand stitching with me. It was so interesting to sew there. The people of Cuba have not had access to many fabrics. They don't quilt much or at all. I would be sewing while sitting in the lobby bar of the resort and the servers would all stop to ask what I was doing. I would show them the hand stitching and pictures on my phone of some of the quilts that I have made. They were all amazed.
This is the hand stitching I've been doing.
I'm making these with a kite shape. I'm turning them into triangles, then diamonds, then stars.
I love how these are coming along.
Well, I think that's enough for one post. LOL!!
Linking with: